Description
By sending a small payment from your bitcoin address we're able to verify your ownership and connect your email address as well as your company name, web address, or other desired details.
IMPORTANT:
– In the Order Notes box on the checkout form, please enter your website address URL, website/company description, and any other additional info you'd like to connect with your bitcoin address. This step is optional – your profile page on BitcoinWhosWho only requires an email address.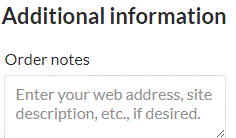 – Phone number is optional. Only enter your phone number if you would like to include it on your profile page. Separate verification is required.
– Your company name or website and the additional info you provide in the Order Notes, will appear on your profile page on bitcoinwhoswho.com. Your info may also appear on our Recent Verifications page.
If you have any questions or need to provide additional info, please email verify@bitcoinwhoswho.com
Thank you.