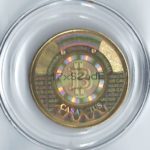 UPDATED 6/13/17: A second 2011 first series Casascius physical bitcoin has sold on eBay for $10,100, eclipsing the previous record set last week by $3,000! This one was not in mint condition either having been "removed from the capsule only twice". The address 16cVGhzpeNzCKNcz4q5jBoKzNJRKHds4av still shows 1 BTC.
ORIGINAL: A mint 2011 series 1 Casascius physical bitcoin sold for USD $7,100 on eBay yesterday. The address, 17xS2adEin5TYQU4xnaBYaHoQDEzHvkg6L, containing 1 BTC, attracted 14 bidders and started at $.99 on May 26th. A bidding war for the "physical" bitcoin reached $2,500 after the first day and $4,050 to start the last day June 5.
First series Casascius coins are highly sought after by collectors. During the last bitcoin price spike in 2013 many changed hands on eBay for about ~USD$3,000.
5,140 of the 11,000 first series 1 BTC Casascius coins in circulation contain the same error, a missing "s" in the watermark, according to elianite. Continue reading 1BTC Casascius Bitcoin Sells For USD$7,100 →