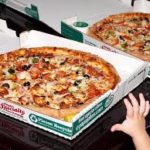 There is strong evidence to support either thesis. Bitcoin Pizza Day is May 22. No better time to review the evidence. Whose pizza is worth $98 million today?
Eight years ago "Jercos" sold "Laszlo" 2 pizzas for 10,000 BTC. It was the first transaction in bitcoin history for an economic good or service. At the time 1 BTC was $USD00.08.
Continue reading

The First #Bitcoin Transaction; Was it for two @dominos or @PapaJohns #pizza?